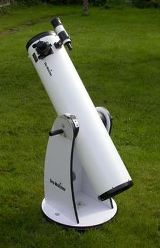 Strengths: deep sky objects, planetary observing 
Portable: fair, Set up time: excellent, Ease of use: excellent
Comes with instructions
Quantity available: 1
Often referred to as "the best first scope" and a scope that will "last a lifetime" this telescope has a "paraboloidal" primary mirror to eliminate spherical aberration and a four-arm, secondary-mirror bracket with fine supports (0.5mm thick), to reduce diffraction spikes and light loss. It also include the new feature: tension control handle. The secret of the design is to correctly balance the optical tube with special designed handles on the base. The design adds enough friction and tension to allow the tube to move easily when nudged but to stay in position when not. Users can easily add or reduce tension by turning on the handle. This feature solves the common balance problem found on many Dobsonians. 
See the Sky-Watcher web site for further instructions.
Telescope details
Make: Sky-Watcher
Models: 200mm Dobsonian mounted reflector
Objective / aperture: 203 mm (8")
Type: reflector (Newtonian-based)
Focal length: 1200 mm
Focal ratio: f/6
Weight: 8 kg
No carrying case
Mount details
Model: Sky-Watcher
Type: Dobsonian
Base: Dobsonian
Weight: 8 kg
This mount is not motorized
No carrying case
Optics provided
2" 32mm eyepiece with 1.25" adapter
25mm SMA 1.25" eyepiece
10mm SMA 1.25" eyepiece (replaced with Plossl)
6mm Plossl 1.25" eyepiece
Barlow
Finder: 9x50 straight-through
Carrying case: camera bag