UPDATE. These pages updated on 10 June 2023.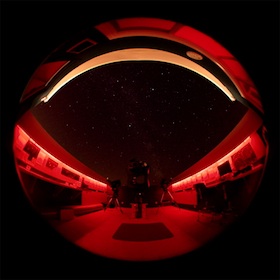 The E.C. Carr Astronomical Observatory provides Toronto Centre Members with a fully equipped observing facility that offers clear dark skies, excellent accommodations, a 16" Ritchey-Chrétien Telescope for visual astronomy, a guided 8" RC Telescope for astrophotography, red-lit warm rooms, as well as sheltered facilities where members can operate their own equipment if they so choose.
CAO is normally a communal living facility where people live together and share the responsibilities of the upkeep of the house and the property. However, access to all indoor areas has been modified due to COVID-19. All persons visiting or staying at the CAO MUST abide by communal living rules as set out below.
Post COVID-19 restrictions: See the document CAO COVID-19 Procedures.
CAO will be reopened in stages. Members are required to agree to a waiver (Step 1 of the Booking Form) releasing RASC-TC from all liability to any member, family member or guest arising from participation at or use of the CAO.
Stage 2E is the fifth post pandemic reopening stage and will feature the following conditions:
The upstairs washroom and all upstairs bedrooms are for the exclusive use of those persons who have confirmed bookings for the upstairs bedrooms. The current maximum occupancy of any individual upstairs bedroom by unrelated members is two persons.
All users of CAO may access the downstairs washroom facilities, living and kitchen areas, and must comply with regular cleaning procedures. Users are encouraged to wear masks, but masking is not mandatory. The downstairs bathroom exhaust fan must be set to "run" when in room is in use.
The main refrigerator may be used by all persons on site with a confirmed booking.
Portable on-site loaner telescopes may be used provided they are appropriately sanitized after each use.
The GBO and SLO observatories may be used by qualified operators. Eyepieces must be disinfected after each use. Note that only alcohol-based cleaners may be used on eyepieces and telescope equipment.
Remember that you must bring all your own food, drinks, condiments, personal toiletries, kitchen washcloths and dish towels, bedding, pillow and bath towels. Cleaning supplies are available on-site.
If a member has never previously stayed overnight at the CAO, then their first overnight visit to CAO must be during a period when the facility is staffed by either a CAO supervisor or another qualified member who is able and willing to take responsibility for the safety and security of the facility and its occupants. For a member to get a key and independent access to the CAO during a subsequent visit when it is not staffed by a CAO supervisor, the member must first have received personal instruction from a CAO supervisor on the proper procedures for opening and closing the house, operation of the furnace, water system and other safety items. Such orientation events occur regularly. Monitor the Discourse forum discussion list for upcoming dates.
BEGINNING JULY 7, 2023, SUPERVISORS MAY BE PRESENT TO ASSIST MEMBERS ON WEEKENDS EXCLUDING FULL MOON WEEKENDS. PLEASE CHECK THE CAO CALENDAR TO CONFIRM WHETHER A SUPERVISOR IS AVAILABLE DURING YOUR DESIRED VISIT TO CAO.